/* here and below: img ... data-normal=gameicon1 replaced w src=gameicon1 */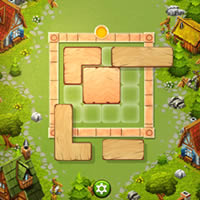 Wood Unblock Puzzle
This wood board puzzle game includes 60 level. You are able to get hints in every level by clicking the ? icon. Further on in some level you will be able to use power-ups. And now, unblock all puzzle pieces.
Drag and drop the wooden pieces so all pieces fit in the frame.
Begin your life in the village. Complete all 20 tasks in the suburbs. After that you'll be considered a grown up, you will stay in the castle now, the second stage of your journey. 20 tasks are waiting for you here too. Beyond the castle the last stage awaits you, it's the tower. To experience fulfillment you'll have to take the last 20 steps of your wooden life in the tower. Then you feel satisfaction and the puzzle finishes after you have experienced these 3 stages with 60 levels in total.