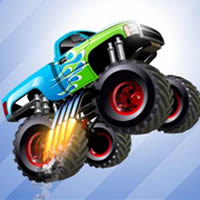 Racing Monster Trucks
Your first race will be you driving a Big-Bug against a Range Rover. This drag racing game offers a lot of cars and trucks. Build your truck with custom parts and racing equipments.
The race is over a distance of 250 meters only. The cars of your opponents will improve nearly by each race. Therefore invest your money in the garage and upgrade all parts constantly. After a few dozen wins, you will be able to upgrade your car respectively truck until you will have 250 thousand dollar finally to buy the ultimate truck RamJet.