/* here and below: img ... data-normal=gameicon1 replaced w src=gameicon1 */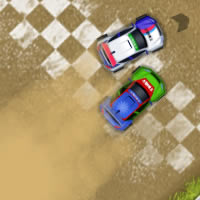 Rally Racer
Start the engine of an rally car and compete with others on different tracks in this racing game. Touch the screen or use a mouse to steer the car in the right direction. Finish first to reach the next track! Skid across dirt and grass in Rally Racer! This competitive car racing game challenges you to drive faster than a league of seasoned professionals.
You will face Tom, Richard, Colin, and other expert drivers. Drift through turns to maintain top speed!
12 different tracks are waiting to be discovered by you. In each race you can get up to 3 stars. If you finish first in all 12 races, you'll get 36 of 36 stars.